Sennheiser CX 7.00 BT Audiophile Soundsignature Wireless
Penampakan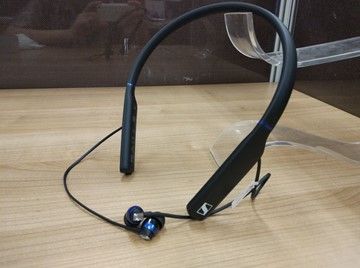 Packaging

Packaging sangat minimalis dengan mika yang bermodel seperti dock untuk neckbandnya. Dalam paket pembelian kita akan mendapat 1 unit pouch, 1 unit kabel micro usb untuk charging, 4 eartips dengan ukuran M terpasang di unit, dan juga kitab.

Fitting and isolation 
                Housingnya yang kecil membuat headset ini sangat mudah dipasang dan sangat nyaman. Isolationnya sangat baik, dan unitnya fit right in.
Build
                Neckbandnya terbuat dari plastic yang sangat ringan, dan housingnya menggunakan plastic glossy yang sangat cantik. Kabelnya cukup tebal dan tidak memberikan kesan ringkih.
Testing
                Spotify high quality on Ipod Touch 4
                Songs :
Dream Theater – erotomania
Celine Dion – My Heart Will Go On
Apink – Dejavu
Steel Panther – Girl From Oklahoma
One Ok Rock – Wherever You Are
LiSA – Itsuka No Tegami
GFriend – One Half
Queen – Too much love wil kill you
Trivium – Build to fall acoustic
TWICE – Heart Shaker
Bass
                Impresi pertama, bassnya tipis sekali, saat dicoba di lagu erotomania, bassnya rapi, tapi kurang berimpact.
Mid
                Midnya disini fun dan smooth, sangat enak untuk mendengarkan lagu yang banyak vocal wanitanya.
High
                Highnya cring dan cukup detail, tapi tidak bikin capek saat didengar.
Soundsignature
                Soundsignya terasa balance dengan bass yang cukup tipis dan mid high yang lepas. Imaging instrument sendiri terasa cukup akurat. Overall suaranya terasa cukup airy.
Conclusion
                CX 7.00 BT ini sangat nyaman digunakan. Saya memakainya 2 hari, dan selama seharian penuh saya sampai lupa kalau saya masih pakai headset ini, karena saya hanya menggantungkannya di neckbandnya, dan itu sama sekali tidak terasa membebani leher. Suara yang dihasilkan juga akan lebih cocok bagi audiophile yang biasa mendengarkan lagu-lagu yang dominan di vocal, sedangkan untuk bassnya sendiri terlalu tipis sehingga impactnya kurang terasa.
Pros
Ringan
Fittingnya sangat enak
Suaranya detail
Cons
Bass terlalu tipis