The New Wireless Headphone from Sennheiser. Pre Order Now!!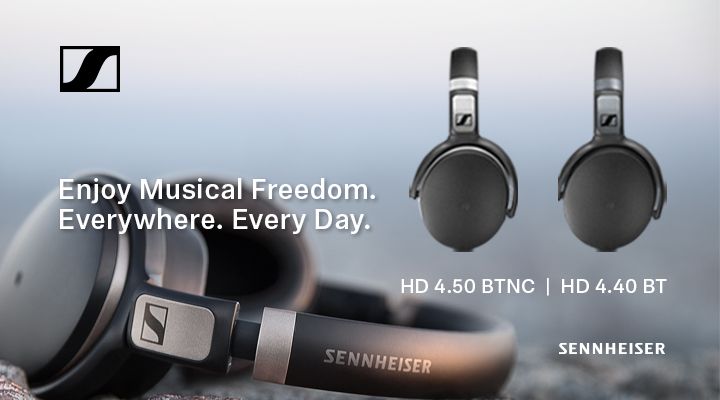 The joy of new Sennheiser Wireless with a long-lasting battery will be available in Indonesia this June.
Baterai dari HD 4 Wireless memungkinkan Anda menikmati musik hingga 25 jam. Khusus untuk HD 4.50 BTNC dengan mengaktifkan Suara NoiseGard â"¢ dapat bertahan hingga 19 jam. Kini Headphone Sennheiser Wireless tersebut akan hadir di Indonesia pada pertengahan bulan Juni 2017. Anda dapat menjadi salah satu orang pertama yang memiliki seri Wireless terbaru dari Sennheiser dengan melakukan pre-order melalui website e-commerce Bhinneka dan Blibli.
Link : 
http://www.bhinneka.com/promo/sennheiser?ref=fp_mai_3
https://www.blibli.com/promosi/pel-p...ser-hd4-series

Enjoy your musical freedom. Everywhere. Every day.

HD 4.50 BTNC Wireless
Headset baru ini dirancang untuk pendengar musik yang tidak puas hanya dengan mendengarkan musiknya, namun ingin menikmatinya, dimanapun mereka berada. HD 4.50 BTNC Wireless didukung dengan teknologi Sennheiser NoiseGardâ"¢ active noise cancellation - kekuatan untuk memberikan pengalaman mendengarkan yang bebas dari gangguan.

HD 4.40 BT Wireless
Sennheiser HD 4.40 Wireless yang baru menawarkan suara nirkabel berkualitas tinggi bagi pecinta musik dengan kehidupan mobilitas. Inilah headset yang dapat memenuhi kebutuhan Anda dan dapat membuat Anda menikmati musik saat bepergian: Kebebasan bergerak secara nirkabel, kemudahan penggunaan intuitif, mudah dibawa, gaya yang elegan minimalis dengan bahan berkualitas tinggi untuk memenuhi kebutuhan perjalanan Anda.